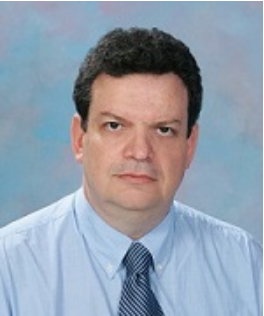 Prof. Pericles A. Mitkas received his Diploma of Electrical Engineering from Aristotle University of Thessaloniki in 1985 and an MSc and PhD in Computer Engineering from Syracuse University, USA, in 1987 and 1990, respectively. Between 1990 and 2000 he was a faculty member with the Department of Electrical and Computer Engineering at Colorado State University in USA, where he directed the Optical Computing Laboratory.
Since 1999, Dr. Mitkas has been a faculty member with the Dept. of Electrical and Computer Engineering at Aristotle University of Thessaloniki, where he has served as Director of the Laboratory for Information Processing and Computing, Associate Head, and Head of the Department. He has also served as the Director of the University IT Department.
In 2014, Prof. Mitkas was elected as University Rector, a position equivalent to President, where he served until 2019. Aristotle University is the largest university in Greece, with some 70.000 students and a healthy funded research program. During his term in the office, his main goal was to strengthen the international programs and collaborations of Aristotle. In 2017-18, Prof. Mitkas served in the Presidency of the Greek Rectors Synod. In 2018-19, he served as President of the Balkan University Association and he is currently serving a two-year term (2018-20) as the President of the Black Sea University Network.
From 2001 to 2014, he collaborated with the Information Technologies Institute (ITI) at the Centre of Research and Technology Hellas (CERTH), and served as its Deputy Director for 7 years. He was a Member (2006-10) and President (2009-10) of the Provisional General Assembly of the then newly established Department of Computer Science and Biomedical Informatics of the University of Central Greece, in Lamia.
Prof. Mitkas has taught Databases, Software Engineering, and Data Mining courses at the undergraduate and graduate level. He has supervised 16 Ph.D. dissertations, 19 Master's theses, and more than 135 Diploma Theses in Greece and in the US. His research interests include databases and knowledge bases, data mining and machine learning, software agents and intelligent systems, and bioinformatics. His work has been published in over 320 papers, book chapters, and conference publications. He is the co-author of a book on Agent Intelligence through Data Mining.
Prof. Mitkas has been the coordinator of numerous research projects in Greece and the US, several of which involved industrial partners.